Trace: • box_tutorial
wiki:student:box_tutorial
Table of Contents
Box.com Tutorial
Box is a cloud-storage solution to provide storage for BYU faculty, staff, and students.
Any cool features?
Yes! Here are a few:
When accessing Box through the web interface (see below for the URL) or mobile apps, it is possible to preview and even edit many popular file-types (such as videos or Office documents). For example, you could post a video of your lecture, which users could stream from their web-browser or in the app. Alternatively, you could edit your lecture slide deck or even present it from within Box.

Share files by explicitly granting permissions or by sharing a link to the file.

Embed a widget to an external web page that allows users to browse the contents of a Box folder.

Embed a widget to an external web page that allows users to upload files to a Box folder, without being able to browse (e.g. homework drop-box)

Keep your collaboration discussion connected to your files; use Box's comment feature to chat with other Box users about specific files.

Review and restore previous versions of your files. This is also a handy defense against ransomware. If an attacker encrypts the Box files you have synced to your local computer, Box will see the encrypted file as just another version. You can restore to a previous version from before the attack.
Are there any restrictions?
BOX can only be used to storage academic-related files. It is FERPA compliant. It is NOT HIPAA or ITAR compliant. HIPAA compliance is an add-on that BYU may purchase later, depending on demand. It does not look like ITAR is an option that will happen anytime soon.
Please note, this is a cloud-storage solution, like Dropbox. It is NOT a cloud-backup solution, like CrashPlan. Box keeps a version history of your files and temporarily holds on to deleted files, but it is not considered an archive service. Please continue to use CrashPlan, Time Machine, etc. for your backups.
Collaboration and Permissions
Files and folders can be shared between Box users. For example, you could use Box to collaborate with someone outside the University. If they do not already have a Box account, they can sign up for a free one (which has a 10 GB quota). As long as you create and share the files/folders, this will not count against their quota.
There are seven levels of permissions that can be granted to collaborators, from upload-only all the way to co-owner. (See chart below)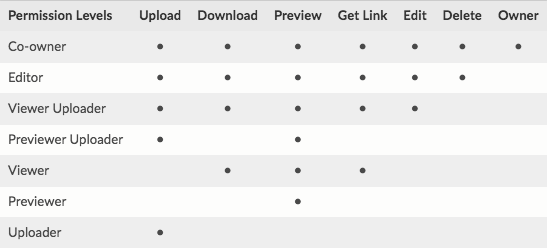 It is important to note that when you share a folder, you set permissions on the shared folder, and any sub-items inherit their permission from the parent. Inheritance cannot be broken. For example, if you share a folder with a group, but want to limit the permissions of a sub-folder to a smaller sub-section of that group, you will not be able to do this. Instead, move the folder to the top level directory and share it separately.
How do I access it?
Access it online through http://box.byu.edu/ Your username will be formatted as <NetID>@byu.edu (e.g. mchamber@byu.edu) and the password with be your normal BYU NetID password. You will be required to use DUO to access your Box account.
Apps exist for iOS, Android, Windows Phone, and Blackberry. When logging on through those apps, be sure to select the "SSO" logon option, which will request only a username. Enter your username using the format shown above and it will redirect you to a BYU login page for your password.
There are two clients available for macOS and Windows (no Linux client).
Box Sync is their main client, which operates much like Dropbox, Google Drive, OneDrive, etc. When installing the client, you will create a folder on your computer where all of your Box data will be locally synced. Any changes you make locally will be uploaded to the cloud on save, or when you next connect to the internet. You have the option of specifying drives from your cloud storage that you do not wish to sync to your computer.

Box Drive is in public beta. Its goal is to reduce the space Box uses on your hard drive and assumes a constant internet connection. Box will appear as a mounted drive in Windows Explorer or Apple Finder and will integrate with your OS's search function (e.g. Spotlight). However, files are downloaded on an as-needed basis and later removed from your hard drive if you don't access them for a while (this removal is at the discretion of the Drive client). All changes are, of course, synced up to the cloud. It does not currently have the ability to grant offline access to your files, though I'm told they are wanting to add that feature later.
How likely is this to stay around?
That will depend on usage. However, OIT is hopeful departments across campus will adopt this over using file servers hosted on Y-Cloud (BYU's on-campus cloud computing platform), which is currently 80% file storage. If such a migration happens, this will likely become a popular and cost-effective solution for the University that will stay for a long time. As a side note, our department does not depend on Y-Cloud for file storage as we have enjoyed ready access to CAEDM groups. We do use Y-Cloud extensively for servers and other computational resources.
What's a Service Account?
You may hear people mention Service Accounts in their departments' implementations of Box. This is an idea from OIT. Basically, they are asking us to create a generic account that can "own" important departmental data. Whoever actually uses the data would be listed as a co-owner, but having the service account as an owner would ensure the department still has access to important data in the event a faculty or staff members leaves BYU without handing over ownership of the data. This could help us ensure we do not lose access to important data. I have created a Service Account for our department, though I am not sure how we would like to proceed with it. It will ultimately depend on how much people use Box and in what manner.
What about Dropbox, Google Drive, etc.?
OIT considered these other providers during their search for a cloud storage solution. They also considered an on-campus solution. Ultimately, this was decided upon as the best solution for the largest number of users on campus. We also have (technically) unlimited storage through Microsoft OneDrive for Business. This is likely to stay around as it is part of our Office 365 subscription. You are free to use it, however, OIT feels Box.com is a superior cloud storage offering.
What about CAEDM groups?
This obviously duplicates much of the functionality of CAEDM groups. CAEDM has announced that they intend to continue providing CAEDM groups. Usage of Box may be a useful complementary resource, but we will leave the choice to the user.
I have a large dataset I would like to transfer to Box, are there any special instructions?
There are several options:
Upload through the web interface (don't do more than 500 files at a time)

Box Drive/Sync (don't try more than 50,000 at a time)

FTPS is best for large datasets, use a client such as FileZilla or Cyberduck

When using FTPS, be aware that only four files can begin their upload during the same second (so, if you have lots of tiny files, this could act as a sort of throttle

WinSCP is not a recommended client for FTPS migration
wiki/student/box_tutorial.txt · Last modified: 2021/06/02 10:01 by ladyp
---